This video above demonstrates the following ways to Create a ticket:
In a shared Collaboration channel #it-help where everyone can submit IT issues to the IT team.
From a Direct Message where a Private ticket is shared to the IT team.
A personal enquiry from an employee to the HR team using a Private ticket
Creating tickets is one of the first things you end up doing with Suptask. The different ways you can do it with Suptask are very simple and in this article we'll show you how.
Create new ticket from a message using the Ticket emoji:
You have sent a message which you want to start a ticket from
On the message, add a reaction emoji by hovering over the message to display the small section with action icons in it.
Select the reaction emoji Ticket (:ticket: 🎫)
Suptask will automatically identify this emoji as the trigger to create a new ticket
Suptask will display the ticket forms available to submit a new ticket in this channel. Select the one you want to use
Fill in the form fields and submit the ticket
Done! Your first ticket has been created.
Create a new ticket using message shortcuts:
Use the shortcut on a message to trigger the creation of a ticket from anywhere in Slack, incl Direct Messages or any generic channel.
Move your mouse over the desired message to create a ticket from.
Press on the three dots within the context action menu. See example screenshot below.
Select Create a ticket (suptask)
If you do not see it, select More message shortcuts... to list additional shortcuts.
Suptask will guide you through creating the ticket for the desired person or team.
Done!
Message context action menu: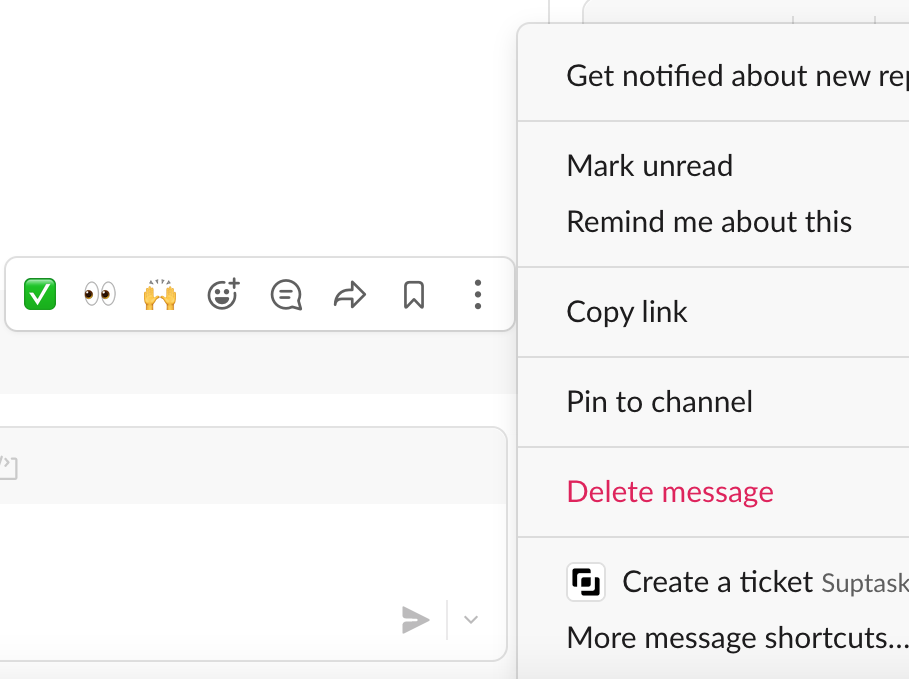 Create a new ticket with slash command:
Type /suptask to show the available ticket forms.
Select the ticket form you want to use when submitting your ticket
Fill in the form fields and submit the ticket.
Done! Your ticket has been created
Create a new private ticket:
Create a ticket from Direct Messages (DM):
Create a ticket using Slack Workflows:
Customize your ticket creation to your needs by adding Suptask as a step into a Slack Workflow designed by you, allowing for various ways on creating tickets.
Additional information
When a ticket has been created, the team of responders will receive the ticket you submitted in their dedicated channel where they triage and respond to the ticket. They will get notified when a new ticket is submitted.
Here are other useful articles to enhance your ticketing experience with Suptask