Creating tickets is one of the first things you end up doing with Suptask. The way you do it with Suptask is very simple and in this article we'll show you how.
Before you can create a ticket, make sure you have joined a channel on Slack that has been configured receiving ticket submissions. You can identify this by typing /suptask help to see if the Suptask Bot is actively operating in that channel.
Create new ticket from a message (or ongoing message thread conversation):
You have sent a message which you want to start a ticket from
On the message, add a reaction emoji by hovering over the message to display the small section with action icons in it.
Select the reaction emoji Ticket (:ticket: 🎫)
Suptask will automatically identify this emoji as the trigger to create a new ticket
Suptask will display the ticket forms available to submit a new ticket in this channel. Select the one you want to use
Fill in the form fields and submit the ticket
Done! Your first ticket has been created.
This can be accomplished in both a Channel or in a Direct Message (DM). Tickets in DM requires extended permission that each user grants in order to create tickets.
Create a new ticket with slash command:
Type /suptask create to show the available ticket forms.
Select the ticket form you want to use when submitting your ticket
Fill in the form fields and submit the ticket
Done! Your ticket has been created
Create a new ticket using message shortcuts:
Send the message within a channel where the Suptask app is invited
Mouse over on the message and press on the three dots within the context action menu. See example screenshot below.
Select Create a ticket (suptask)
Done!
Message context action menu: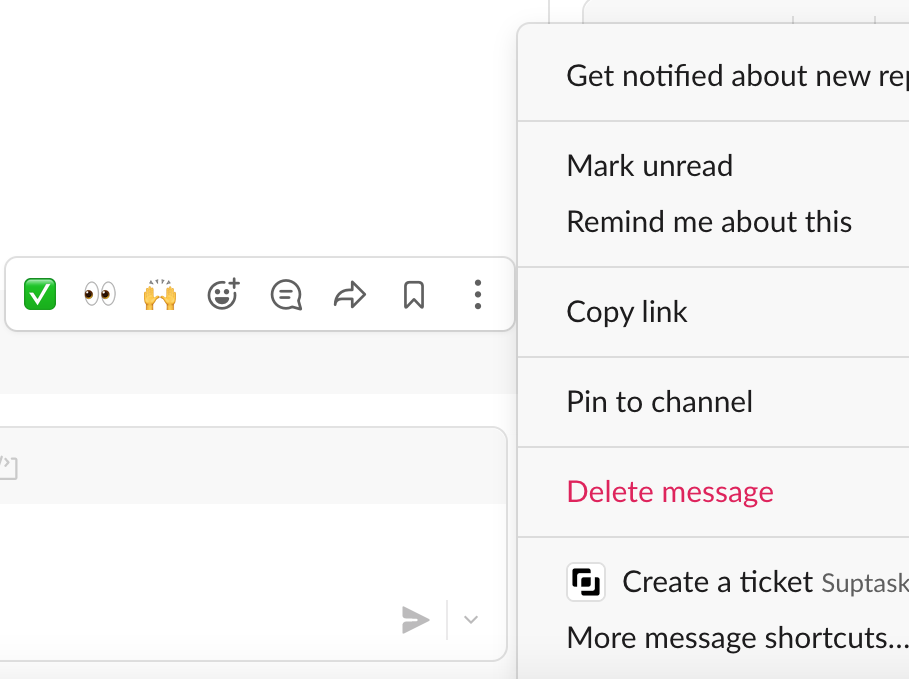 When a ticket has been created, the team of responders will receive the ticket you submitted in their dedicated channel where they triage and respond to the ticket. They will get notified when a new ticket is submitted.
Here are other useful articles to enhance your ticketing experience with Suptask